OostNL invests in PLAEX
Estimated time to read: 9 minutes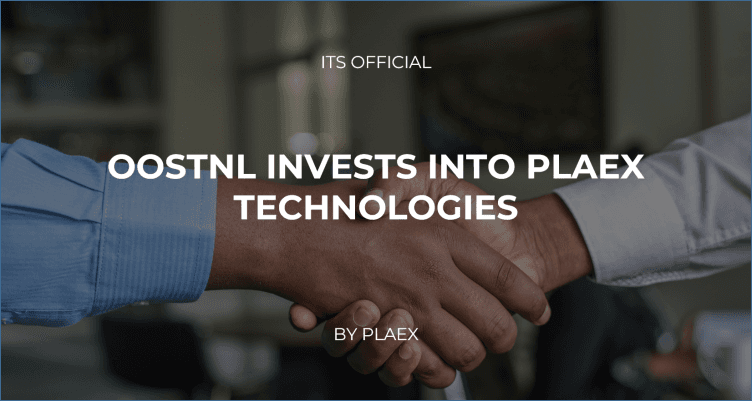 PLAEX Technologies is a sustainability focused startup founded by former students of the University of Twente, in Enschede. The company has developed
Garby
, a smart bin that can automatically sort waste using artificial intelligence, machine learning, and proprietary mechanical design. After securing funding in the form of Early Stage Financing Overijssel (VFF Overijssel), from OostNL, PLAEX is now able to focus on improving its smart waste technologies and entering into the market. Oost NL manages
VFF Overijssel
, working closely with
Novel-T
.
'Throw away your waste and Garby does the rest' - that is our promise of PLAEX Technologies. At our core, we are developing a smart waste management technology which helps businesses save unnecessary costs on waste management and implement innovative and sustainable practices.
At PLAEX, we make a substantial contribution in terms of reducing the amount of non-recycled waste. In the Netherlands, we produce almost 490 kilos of waste per person on an annual basis. For businesses, over 60% of the residual waste produced could have been recycled if placed into the correct bins. This is a shame, and does not have to be that way. We therefore focus on the business and event market where a lot of unsorted waste is generated.
Automatic Waste Sorting: More Recycling, Less Costs
Tyrell Pantophlet
, our co-founder, Chief Executive & Technical Officer, states that Garby works differently from other smart waste bins.
Garby uses artificial intelligence technology
to recognise the type of waste it receives, sort it and store it in separate containers. For this, we programmed and trained the AI smart bin ourselves based on a large database of waste.
Tyrell Pantophlet studied Advanced Technology at the
University of Twente
, but grew up in St Maarten. Nowadays the problems with waste are big, it ends up in a landfill where it is burnt, resulting in smoke that occasionally makes it difficult to breathe. He therefore came to the Netherlands to study and make a difference in this social and environmental problem in whatever way he can.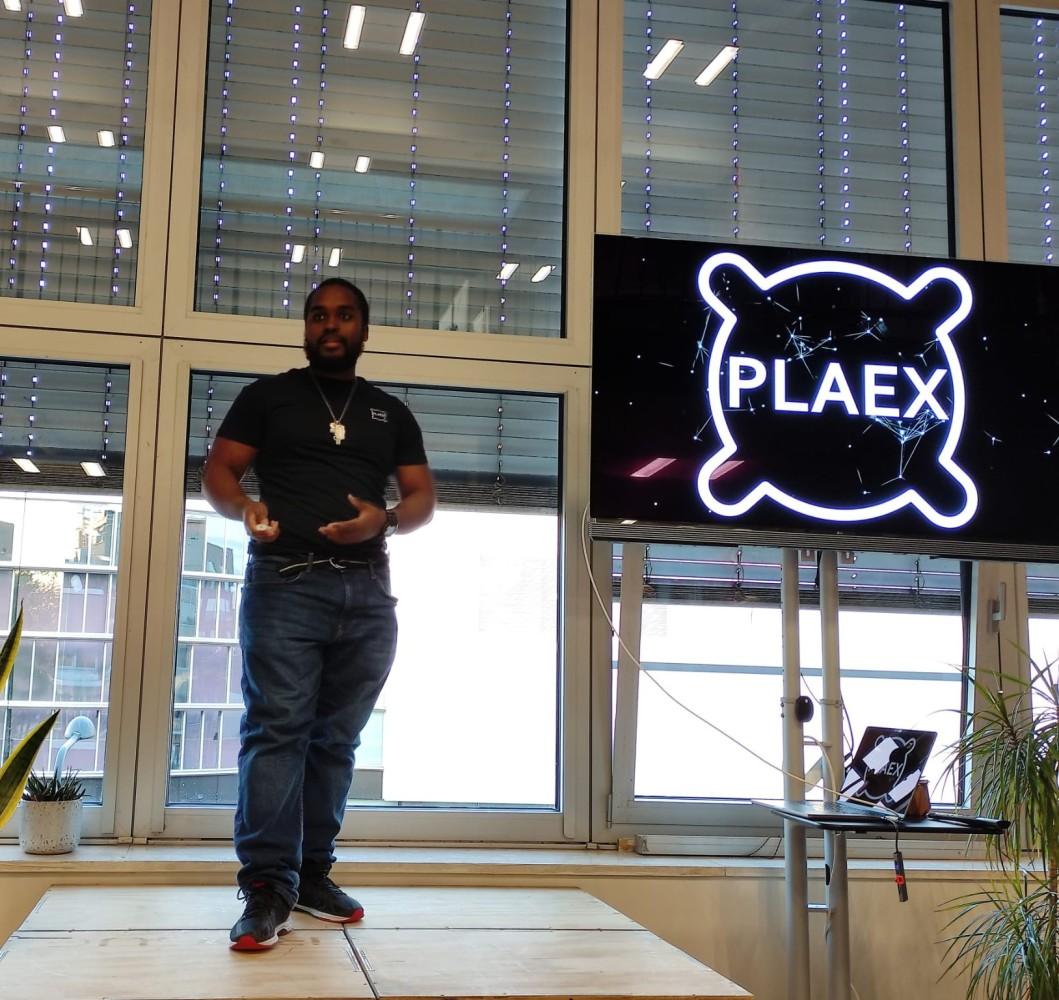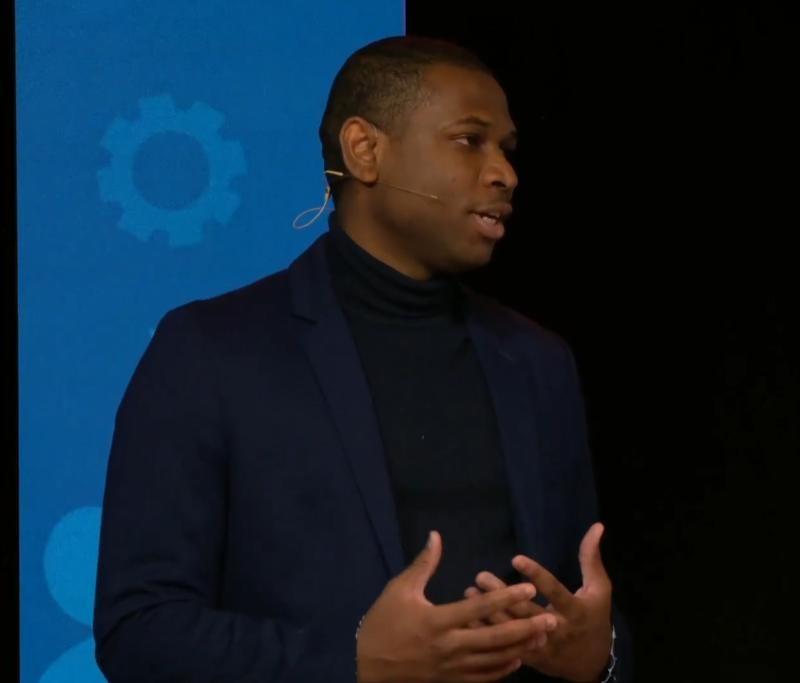 Victor Okoro
, Co-founder and Chief Strategy Officer at PLAEX, was born in Lagos, Nigeria, a megacity that experiences annual floods, which are often exacerbated by a less than optimal waste management chain. These are some realities that Victor is seeking to someday see change, and to be part of that change, and "it all begins with respecting our planet enough to use its resources with the goal or putting them back in use after use". Together after having met, Tyrell & Victor co-founded PLAEX officially in October 2020. Tyrell, with brothers
John and Victor Okoro
, grew the team, raised the business profile of PLAEX and secured the funding.
Since the inception, we have run successful pilots at RAI, FC Utrecht and FC Twente football stadiums, among others. Such event locations are a suitable place for Garby.
According to Victor Okoro, "behavioural change is difficult to teach, particularly when it comes to waste separation. That plus the perceptibly infinite variations of packaging materials that producers introduce into the market, it is often impractical to expect that people will always accurately and optimally sort their waste. However, our technology automatically sorts waste, eliminates human error and thus ensures cheaper waste management and a cleaner, more circular future".
Funding For Further Technological Improvement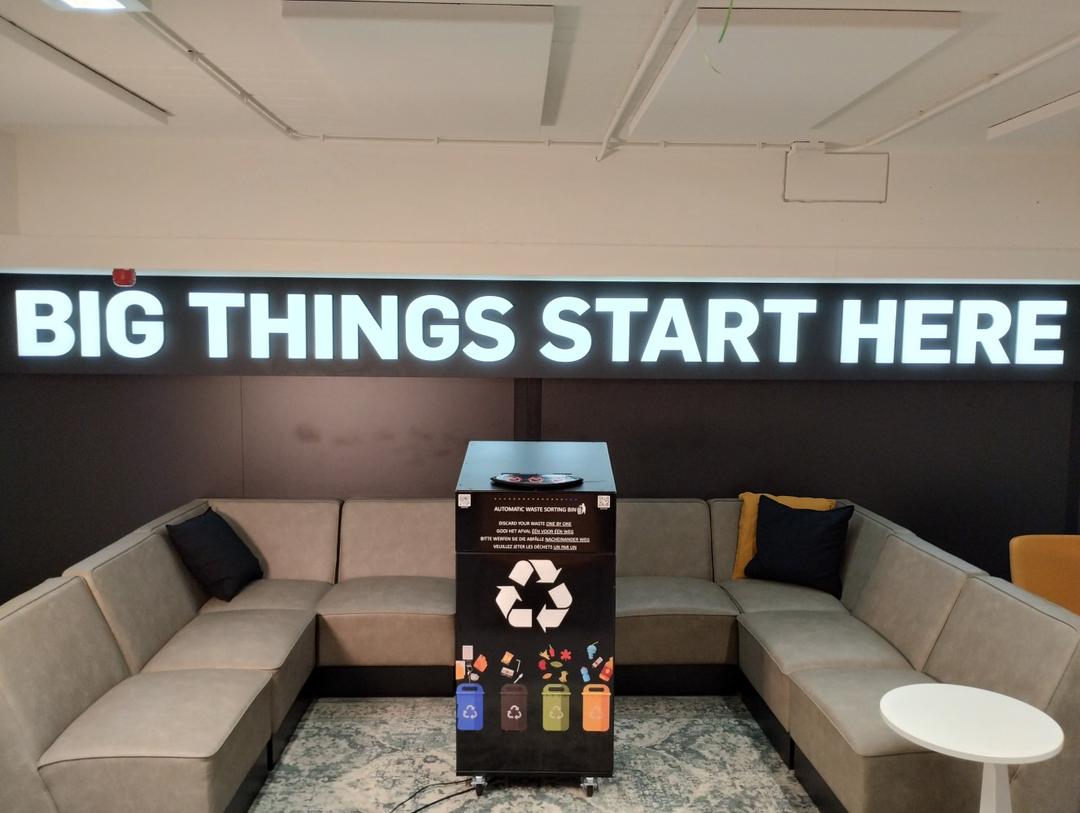 The funding from VFF Overijssel will allow us to further develop Garby and get further into the market. Although we have the fastest waste sorting bin on the planet at PLAEX, we want to further increase the speed of sorting. It is important to make the design more robust as we want people to use the bin at high-pressure event locations. We are also improving our waste database for our AI and the operation for end users. These are all developments that take time, and the funding from VFF Overijssel will ensure we get that done.
Sipke van der Meulen, investment manager at Energy & Circular in Oost NL, had this to say:
"It is difficult for early stage companies to invest in R&D. VFF Overijssel offers a solution here. We focus on entrepreneurs who contribute to solutions for social issues. And PLAEX certainly does. With a young and driven team, they have developed an innovative product that has the potential to make a substantial contribution to reducing waste and increasing the reuse of raw materials."
VFF Overijssel
is co-sponsored by the Ministry of Economic Affairs and Climate (EZK) and the province of Overijssel. Together with
Oost NL
, the Overijssel startup support programmes Novel-T and Kennispoort Regio Zwolle form the counters for VFF Overijssel.
Affiliation with Dutch New Narrative Lab

PLAEX Technologies is a portfolio company and an active member of the
Dutch New Narrative Lab (DNNL)
community.
Thanks to their support, we were able to close the funding round with OostNL.
DNNL
is a non-profit organisation committed to innovative entrepreneurship for all underrepresented groups in the Dutch startup ecosystem and provides further support for us at PLAEX through application of scientific knowledge (valorisation), corporate buy-in, internationalisation and financial resources.
Ruben Brave, founding partner of Dutch New Narrative Lab had the following to say:
"Tyrell's entrepreneurial journey reads like a movie from the stable of Marvel Studios. Tyrell, who was previously an international Taekwondo champion at a very young age, became frustrated because no one seemed genuinely to attempt and solve the garbage-disaster woes on this part of the Caribbean. At some point, he realised that no one intrinsically wanted to solve this and decided to quit sports and focus entirely on his other passion of being a tech entrepreneur and find a sustainable solution for waste and create enough wealth to tackle the waste problem on his beloved island. Stories like his provide an unprecedented insight into people's resilience to overcome seemingly insurmountable situations. And his story, especially in these difficult times, gives hope. This is a type of hope that innovative entrepreneurship can be a force for good and an affirmation of the unwavering belief that diversity brings broad prosperity, for all."
Final Thoughts
At PLAEX Technologies, we are dedicated to revolutionizing waste management through our innovative AI-powered smart bin, Garby. With the recent investment from VFF Overijssel, we are poised to take our technology to new heights and make a significant impact on waste reduction and recycling.
Our journey began with a mission to address the growing waste challenges. Without support from investors and financial institutions up to this point, we have been able to make remarkable progress on our own. Thanks to the support from OostNL and DNNL, we will be able to make a significant step to sustainable change. We have conducted pilots at renowned event locations, proving Garby's efficiency and effectiveness in handling waste.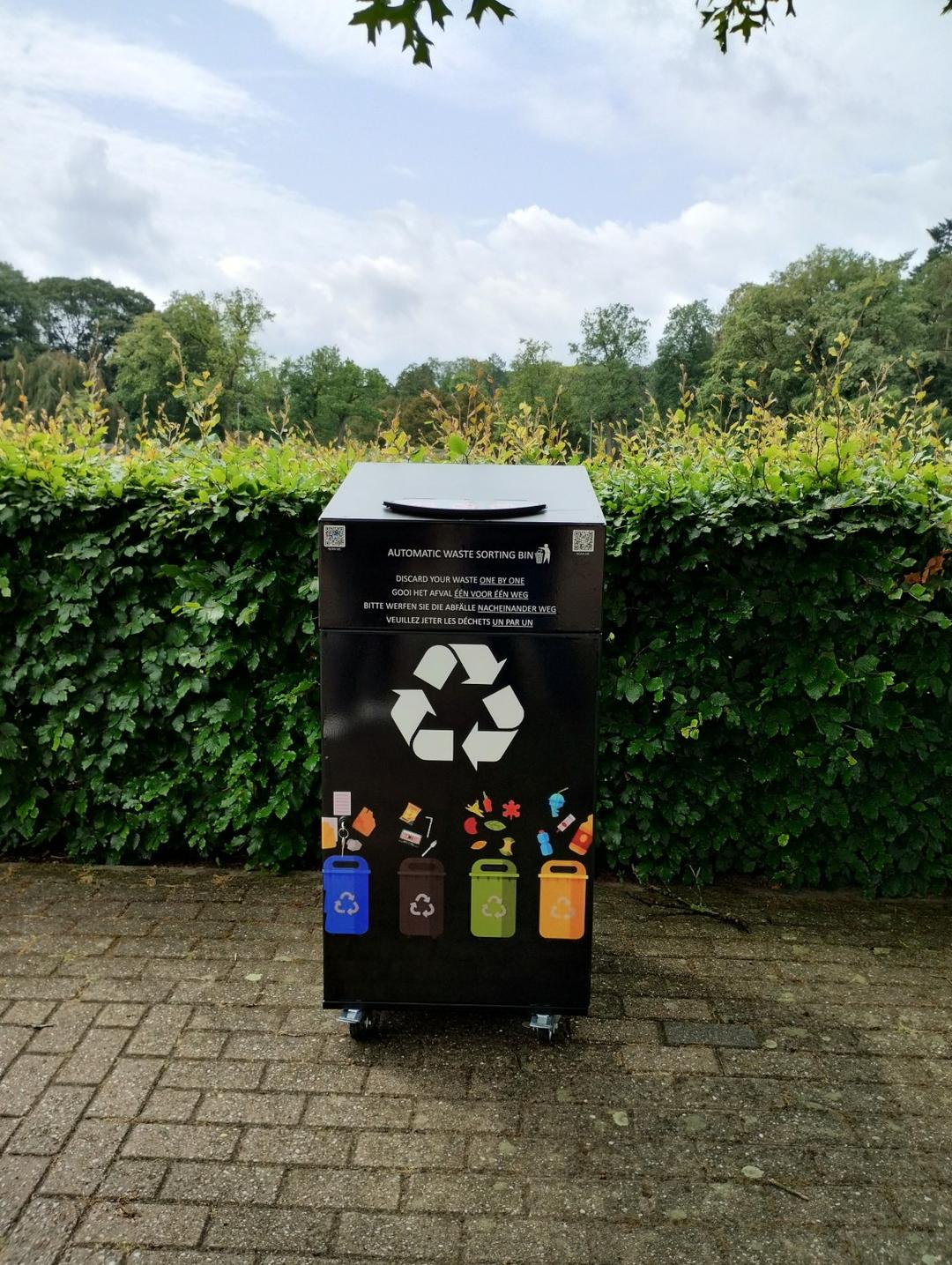 As we move forward, we will use the funding to enhance Garby's sorting speed, robustness, and user interface, making it an ideal solution for businesses and event organizers.
We invite you to join us in our mission to create a sustainable future by embracing innovative waste management practices with Garby. Whether you are a business looking to save on waste costs or an event organizer aiming for a greener footprint, PLAEX Technologies is here to provide you with the ultimate smart bin and waste solution!
[Contact us today and schedule a meeting](OostNL invests in PLAEX) in order to explore how Garby can revolutionise your waste management and contribute to a cleaner, more sustainable world. We offer a 1-month pilot program where you can evaluate how well Garby fits your business needs.
Remember: It is not complex, it's #PLAEX♻️
Frequently Asked Questions (FAQs)
What is a smart bin, and how does it improve waste management?
A smart bin is an advanced waste receptacle equipped with technology, such as sensors and artificial intelligence, to automate waste sorting and management. These bins use cutting-edge algorithms to identify the type of waste deposited and sort it accordingly, reducing the need for manual intervention.
What happens if there's 2 objects that are thrown in at once?
The waste will be taken as residual, as the material has been cross contaminated already and is not able to be properly recycled. Read more about this in our
cross contamination
article!
How can the smart bin benefit my business or event?
Implementing the smart bin in your business or event can bring numerous benefits. Firstly, it optimises waste segregation, ensuring that recyclable materials are properly sorted, which aligns with sustainability goals and environmental regulations. Secondly, it reduces operational costs by minimising the need for manual waste sorting and collection. Additionally, the smart bins promote a cleaner and more hygienic environment, improving the overall experience for customers, attendees, or employees.
Are your smart bins user-friendly and easy to maintain?
Yes, our smart bins are designed with user-friendliness in mind. You simply need to open the lid, throw your waste in and walk away. Its that easy! Maintenance is also straightforward, with our bin able to detect fill levels and potential malfunctions. Regular maintenance involves emptying the segregated waste compartments, handled by your organization. We will ensure that the sensors and AI technology function correctly, hassle-free and provided by us.
Can the smart bin be customized to suit specific waste management needs?
Absolutely! Our smart bins can be tailored to meet specific waste management requirements. The AI algorithms powering these bins can be trained to recognize various waste types, making them adaptable to different settings. Whether it's a commercial facility with specific waste streams or an event with unique disposal needs, our smart bins can be programmed to sort and manage waste accordingly, maximising efficiency and effectiveness. The look of the bins can also be customised so that they can be displayed whatever branding the client would require.
Terms & Conditions
© PLAEX 2023, all rights reserved.